Unenclosed Guillotine Isolator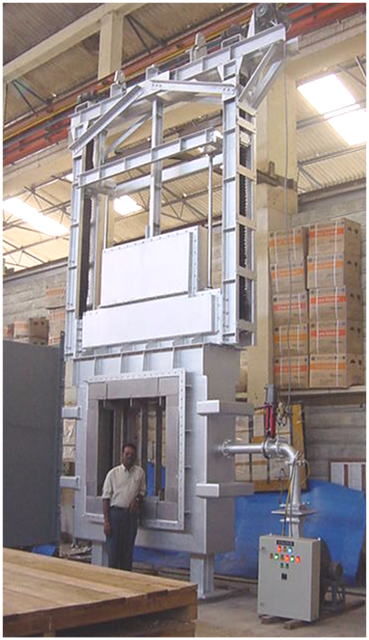 Product Overview
* Higher Sizes / Pressure available on request
Introduction
Introduction
Unenclosed Guillotine Isolator
Fouress Engineering is one of the leading designers and manufacturers of flue gas shut-off and modulating dampers. Building upon the 50 + years of experience accumulated, Fouress has acquired a competitive edge by introducing a number of innovations, which secured us the encouragement and goodwill of our customers. Our dampers are in service in Power plants, FGD-plants, Combined cycle Power Plants, Garbage incinerating plants/Waste to Power Plants, Cement – and Steel plants, as well as other industrial plants all over the world.
Fouress offers Guillotine Dampers with metallic sealing system incorporated on the frame or on the blade. There are three distinct design options which are suitable for negative and positive pressures.
 Glandular Guillotine Isolator.
Unenclosed Guillotine Isolator.
Enclosed Guillotine Isolator.

Features
Unenclosed Guillotine Isolator Features:
Fouress Unenclosed Guillotine Dampers have metallic sealing system incorporated in the frame, ensuring 100% leak tightness with purge air. These Guillotine Dampers are available for duct sizes upto 100 square meters in area.
 Available for Square, Rectangular or Circular cross section ducts.
Designed to withstand flue gases upto 300 Deg C temperature and 2000 mm Water Column pressure.
Designed to be installed in a horizontal, vertical or inclined ducts. Gas can enter from the top, bottom or at an inclined angle.
Guillotines are available in enclosed design (for flue gas temperatures higher than 300 Deg C) when gas leakage to atmosphere cannot be tolerated.
Guillotines are available with either Simplex or Duplex designs depending upon the sealing efficiency desired. Simplex design offers 99.95% gas tightness on Cross Sectional Area and Duplex design ensures 100% gas tightness with purge air.
The operation of the guillotines could be either Electric and Manual. Pneumatic and Hydraulic operation can be offered on request.
The entire operating system is located outside of the duct and does not come in contact with flue gases.
Critical components like Actuators, Gearboxes , Drive screws/Rack and Pinion and drive shaft can accessed, inspected and serviced at all times.

Design Specifications
Design Specifications
Unenclosed Guillotine Isolator
PARAMETER
DESCRIPTION
DETAILS
SIZE RANGE
Upto Duct areas of 100 Square meters*
PRESSURE
RATING
Upto 2000 mm WC*
TEMPERATURE RANGE
Upto 300 Deg C
MATERIAL OF CONSTRUCTION
FRAME
Carbon Steel
BLADE
CARBON STEEL
SEAL
SS 316 / INCONEL-625/ HASTALLOY – C (On request)
DESIGN GOVERNING STANDARD & TESTING
FOURESS STANDARD /AMCA
SEAL  TYPE
SIMPLEX / DUPLEX  – LEAF/LOOP &   V TYPE FLEXIBLE METALLIC SEALS
MODE OF OPERATION
MANUAL /  ELECTRIC
(PNEUMATIC /HYDRAULIC ON REQUEST)
NO OF DRIVES
SINGLE / DOUBLE
INSTALLATION ARRANGEMENT
In Horizontal , Vertical or inclined ducts. Flue gas flow can be from bottom to top or from top to bottom
* Higher Sizes / Pressure available on request
Download Brochure
Unenclosed Guillotine Isolator