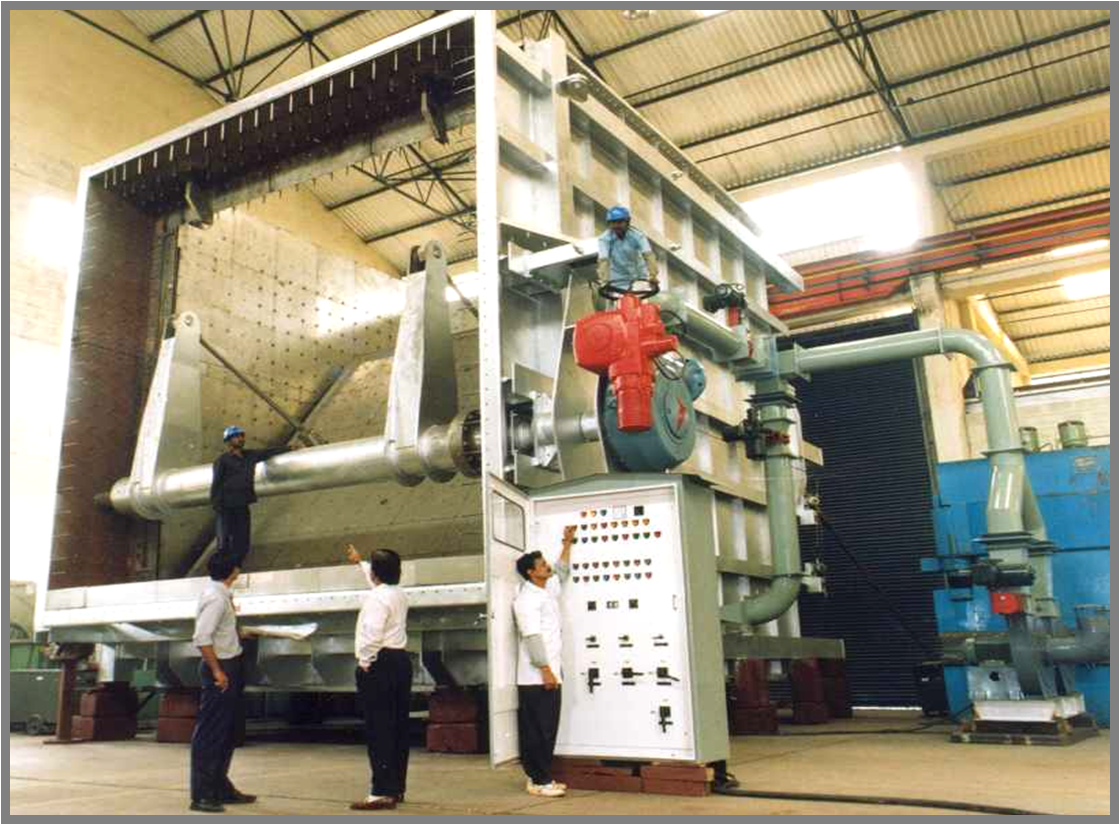 Product Overview
* Higher Sizes / Pressure available on request
Introduction
Introduction
DIVERTER DAMPER
DIVERTER DAMPER For Heat Recovery Steam Generator ( HRSG )Isolation in Combined Cycle Power Plants
(CCPP)
The system installed between the combustion turbine exhaust and the HRSG of a CCPP is known as By-Pass Stack Exhaust System. Primarily Diverter Damper (Changeover Valve) is used in Gas Turbine (GT) plant in between GT exhaust & HRSG along with Guillotine Isolator, Bypass Stack with silencer, Expansion joints, interconnecting transition Ducts and Support Structures etc for Gas turbines of all Makes & Models.
Most of such gas handling systems have a requirement to change the gas flow direction to allow access to critical components, without shutting down the whole plant. With traditional dampers there is the danger of an upset or explosion, if the two dampers do not act simultaneously. Fouress Diverter Valve was developed to handle such a situation in gas-turbine installations which incorporates a heat recovery boiler. Subsequently, the concept has been used in a wide variety of industrial applications such as refinery heat recovery plants,
pollution control, nuclear ventilation systems and DG sets.
Diverter Damper improves the boiler efficiency by reducing heat losses through a dump stack or by-pass stack, permits on-load maintenance of the waste heat boilers, gas turbines and the fans.
FOURESS DIVERTER DAMPER was first installed at BPCL, Mahul Refinery in 1989 and have over 200 installations in India and abroad.
Features
Features
A 3-Way Diverter Damper is an unique product which is superior to Louver and Guillotine combination.
 Physically impossible to close both outlets by one flap of Diverter,
Insulated flap will ensure very low heat loss to bypass increasing heat retention and thereby power plant efficiency by 3-5 % depending upon seal design.
Provides on load maintenance by 100% sealing efficiency using duplex sealing with seal air fans.
Two blades, four rows of flexible metallic leaf seals to ensure a pressure assisted sealing providing 99.97% to 99.99% sealing efficiency and the Interface between two rows of seals is pressurized by external small seal air fan to ensure 100% man safe isolation for HRSG maintenance, while Gas Turbine generates power in simple cycle.
Step less internal duct dimensions in internally insulated Diverters.
Good modulation characteristics comparable to louvers.
Lower installed cost considering, with diverter installed, simple cycle can be commissioned during which power generation can start by Gas Turbine.
Diverter can handle pressure up to 2000 mm WC,
Temperature range up to 725 deg °C
Gas velocity is normally limited to 30 m/s. However, with special arrangements, velocities up to 45 m/s can be handled,
Floating 'Blade' Assembly with Toggle lever mechanism for larger Diverters, where additional shaft with lever linkage to flap and main shaft carrying the flap only to support the flap, drive torque is applied to toggle shaft, which is significantly lower. Drive angle from open to close is about 120 Deg
Insulation on both outer Blade surfaces, which will have a minimal differential expansion in the Blade,
Integrally stiffened Plenum, suitable for external or internal insulations,
Pressure assisted metal shaft seals, self aligning and the outboard bearings as well as the complete external drive system, facilitates easy maintenance.
Design Specifications
Design Specifications
* Higher Sizes / Pressure available on request
Download Brochure
DIVERTER DAMPER (PPV)