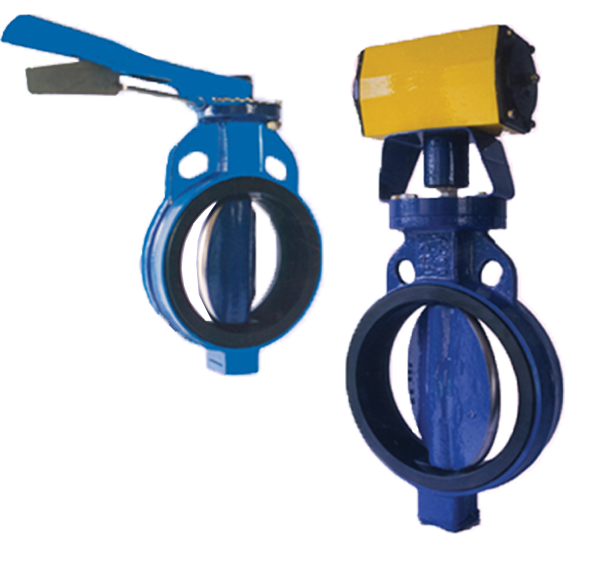 Product Overview
*Higher Sizes/Pressure available on request.
Introduction
Introduction
FOURESS COMPACT HIGH PRESSURE BUTTERFLY VALVE (MODEL-4S-V16)
Introducing the Fouress 4S-V16 High Pressure Compact Seal Butterfly valve. Combining versatility with high performance and ease of operation, the 4S-V16 brings in modern design advantages to general purpose valves.
4S-V16 is designed to take higher pressure up to 16 bar. With a soft seated wafer construction and a unique seat sealing design, the 4S-V16 scores over conventional gate and globe valves in every aspect. Its light weight and simplicity of construction ensures economy in operation and maintenance.
The 4S-V16 compact seal construction and flexibility of body, seat and disc materials render it suitable for a wide range of fluids and gases;water,air,town gas, oils(except aromatic hydrocarbons) ,dilute acids and alkalies. The 4S-V16 is ideal for high pressure applications in air conditioning & refrigeration, ship building, fire fighting systems, water supply, sanitation lines, hotels, high rise buildings, water distribution tankers and other general fluid isolation and control applications.
Features
Features
FOURESS COMPACT HIGH PRESSURE BUTTERFLY VALVE (MODEL-4S-V16)
FOURESS High Pressure Butterfly Valves (Model 4S-V16) are with centric disc construction with one-piece body and replaceable seals.
 Ensures bidirectional shut-off.
 High pressure application upto 16 bar.
 Reduced actuating torque as the bush used is of copolymer material. This results in longer life of valves.
 Can be easily fitted on to flanges of ANSI, DIN and BS Standards, without gaskets.
 Endurance tested for guaranteed high performance and durability.
Design Specifications
Design Specifications
Product : Compact Pressure Butterfly valve (MODEL -4S-V16)
Design Specifications :
PARAMETER
DETAILS
Size range
50 mm to 600 mm*
Design Pressure
16 Bar*
Temperature range
Upto 120 deg C.
Design & Governing Standard
BS EN 593
Mode of operation
Manual / Pneumatic / Electric
End connection
Wafer
Material of Construction (MOC)
Body
Cast Iron to IS 210 Grade FG 260
SG IRON to BS 2789 Grade 500/7
SG IRON to IS 1865 Grade 500/7
Disc
SG IRON to BS 2789 Grade 500/7
SG IRON to IS 1865 Grade 500/7
Stainless Steel to ASTM A 351 Gr.CF 8/CF 8M
Shaft
ASTMA 479 Type 410
Seal
NBR/EPDM
Bush
Acetal Copolymer
Temperature range
Upto 120 deg C.
* Higher Sizes / Pressure available on request
Download Brochure
HIGH PERFORMANCE BUTTERFLY VALVE(PPV) (MODEL -4S-V16)